CCMT employs several techniques for lowering the cost of powering battery electric trucks fleets and thereby lowering the TCO of your investment. We start with managed off-peak, overnight charging to avoid triggering demand charges. We will also evaluate your utility bills to determine whether lower cost power can be purchased in the de-regulated overnight power markets.
On the technology side, wherever and whenever possible, CCMT looks to include solar photovoltaic (PV) and stationary battery storage technologies at client facilities. On-site solar PV + stationary battery storage can result in the lowest TCO. And when solar PV + stationary storage are combined with battery electric trucks and two-way, bi-directional vehicle-to-grid (V2G) chargers, the result is a microgrid that operates in parallel with the electrical grid during normal operation conditions, but automatically detaches and continues to be able to produce power and provide energy to the vehicles and even adjacent buildings. CCMT will evaluate your facility for solar + storage + V2G chargers to complete the "green energy loop," producing zero carbon, low-cost green power.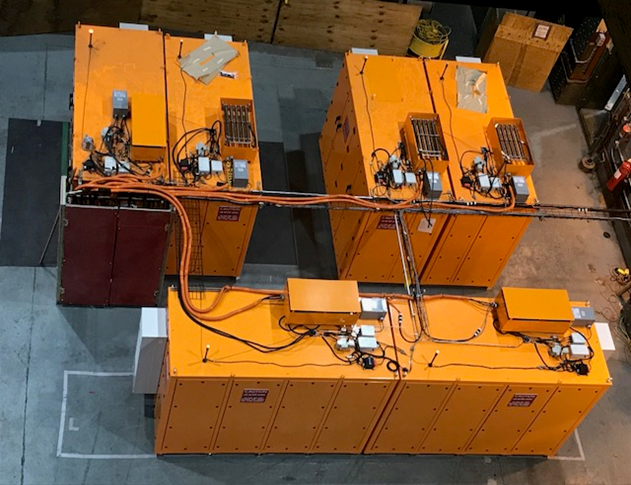 Aerial photo of CCMT's 1MW/733kwh stationary battery storage system installed in the MTA NYC Transit power traction sub-station on 53rd Street in midtown Manhattan. This battery captures the regenerative braking power of NYC subway trains as they arrive and depart passenger stations in the area. The system lowers the overall power consumption of the NYC subway by ~ 20%. The MTA NYC Transit system is one of the largest electric power consumers in the United States.